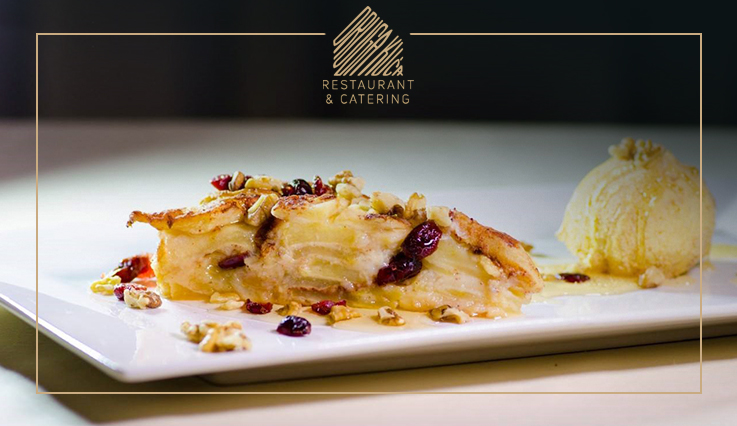 HOMEMADE APPLE CAKE WITH HEALTHY INGREDIENTS, INCREDIBLE TASTE
Although today there is a pronounced tendency to buy cakes and pastries in large supermarkets, homemade apple cake is actually one with an irresistible taste.
Homemade cakes are a complete delight, and in the Druga Kuća restaurant they are prepared from high-quality fresh ingredients.
Selected recipe
In our cakes, including this one, the intake of fat and sugar is controlled, without preservatives, salt, artificial colors and flavors. Today we are talking about a healthy apple cake, prepared by Druga Kuca pastry cooks with a lot of love and attention. If you prefer a refreshing fruit dessert version, then this cake is the right choice for you, because in addition to apple, this selected recipe uses walnut, cranberry, honey and cinnamon, as well as ice cream as a perfect topping.
The sweet corner of our restaurant was created out of imagination, but also as a challenge where diverse textures, secret ingredients and unusual accessories are combined. That is what makes us recognizable. Just by looking at the desserts on the menu or in the showcase with sweets, everyone can find something for themselves and choose cakes with an irresistible taste.
Love on a plate
Each dessert is given special attention, knowledge, skill, imagination, and the final product is love on a plate. Our way of preparing desserts is really special, and our cakes contain carbohydrates that give energy to the body, including muscles, brain and nervous system. Given that they mostly contain dried fruits, almonds or walnuts, they have a positive effect on the immune system, while a healthy apple cake is also important for the digestive system.
Next time you want an irresistible dessert with carefully selected ingredients, we recommend going to the Druga Kuća restaurant, which offers cakes prepared according to a homemade recipe.
CLICK FOR DESSERTS ON THE MENU
For all orders, reservations and other information, visit the Facebook and Instagram pages or contact us via e-mail [email protected] or call 033 716-700.