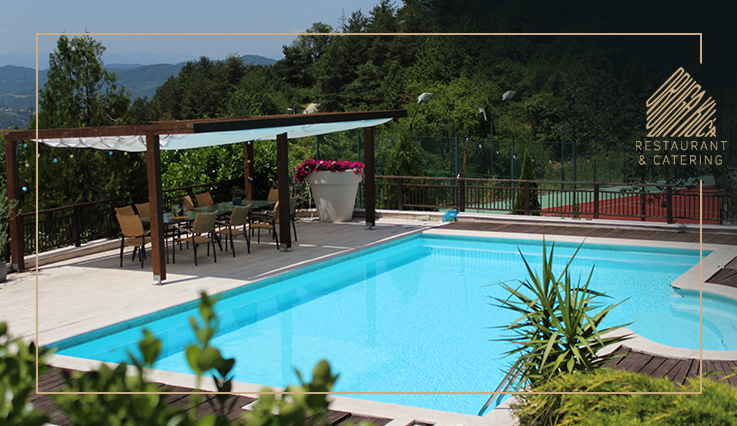 Kruškov do – Perfect Setting for Private Celebrations
When it comes to organising private events, Kruškov do is a destination you must not miss. This wonderful place, with a view of Sarajevo, offers incredible intimacy and an idyllic natural environment for an unforgettable experience. It is located in the settlement of Poljine, not far from the city, and allows you to enjoy the all-day sun and beautiful natural surroundings, top gastronomic offer, catering services, and numerous recreational facilities.
One of the key features is the feeling of intimacy that Kruškov do provides. This space is specially adapted for events and celebrations for 50 to 70 guests. For your private events, Kruškov do will provide the privacy and exclusivity you are looking for. Be sure that only you and your guests will have access to this wonderful place, which will create a personal and pleasant environment.
Unique experience of food and drink
We nurture our love for local products and authentic Bosnian cuisine, which will give your event a special touch. The fruits and vegetables used come from local farming, and the wines are chosen from a rich selection of local winemakers and local liquor producers. All this is created by an exceptional culinary experience of the restaurant Druga kuća to capture all your senses.
Additional services and facilities
Kruškov do offers much more than just food and drinks. With professional staff who take care of every detail, you can count on high quality catering services and many other benefits. The experienced staff and catering services of the restaurant Druga kuća will additionally spice up your event with their magical delicacies. Whether you want to organise live music, hire a sound system, or decorations, the host will help you make everything flawless.
Kruškov do near Sarajevo, is a place that combines nature, elegance, and exclusivity for an unforgettable experience. The combination of natural surroundings and views of the city creates a unique environment that will add to the uniqueness of your event. Its intimate space, idyllic setting, and beautiful view make it an ideal location for private events. Surrender to the charms of this place and create unforgettable memories that will remain etched in your hearts.
You can get all the information by calling 061 145-920.